BABY GIRL - Offered by Owner - Young Adult's Web Page
Calico / Mixed (short coat) : : Female (spayed) : : Adult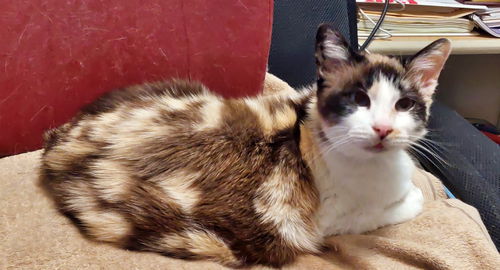 I would love you more than you can imagine.
Please adopt me!
BABY GIRL - Offered by Owner - Young Adult needs a caretaker or foster! Won't you consider helping her get a new start?
Please Note: This animal is listed as a courtesy to another organization. Please be sure to contact the foster/caretaker for more information about her.
About BABY GIRL - Offered by Owner - Young Adult

Status: Available for Adoption (adoption info)
Adoption Fee: $75
Species: Cat
General Color: Calico or Dilute Calico
Color: Brown and white with black on her crown / Calico
Eye Color: Green
Current Age: 2 Years 6 Months (best estimate)

Declawed: No
Housetrained: Yes
Grooming Needs: Low
Reaction to New People: Friendly
Baby was abandoned 6 months ago, been feeding and cuddling with her in that time. We brought her in a week ago after her shots. We currently have a cat with feline leukemia and she needed vaccines and tested before we brought her in. The old cat will not tolerate another cat in house. So therefore I need to find a new home for her. She is a lap cat, loves to cuddling and giving kisses. She sleeps with We. I will miss her, but I have to except what the other cat wants. Indoor only now! $75 adoption fee.
This cat is offered for adoption due to the owner's personal circumstances. For more information on meeting and adopting this kitty, please fill out a pre-adoption application under "ADOPT" on our website at WWW.CATSCRADLERESCUE.COM. Your information will be forwarded to the owner for follow-ups and meeting arrangement.
Cat's Cradle is an all-volunteer, non-profit foster-home based rescue serving Oregon cats who need new homes. 100% of your adoption fee goes to provide for the medical and physical needs of the cats in our care. We invite you to become a foster parent and experience the great satisfaction of helping a cat or kitten in need.
More about BABY GIRL - Offered by Owner - Young Adult
Good with Older/Considerate Kids Only
,
Good with Adults
,
Likes to play with toys
,
Likes to be in your lap
,
Affectionate
,
Eager To Please
,
Intelligent
,
Gentle